v.club
Join v.club and get the lowest possible fares!
What is v.club?
v.club is the exclusive Volaris membership that offers you the best available fares to keep traveling.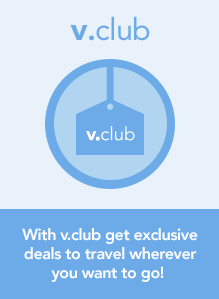 BENEFITS
Get the

best fares for all of our flights. The blue rates reflect the v.club discount
You may enjoy special offers and last-minute travel deals. Every Thursday of each month our members get a exclusive offer

Be the first to find out about the promotions that we offer

Get an annual Individual Membership for $499 MXN ($49 USD) or a group membership (for you and 6 additional travelers) for $1,499 MXN ($149 USD)
HOW TO JOIN
How to become a VClub member:
Join v.club by choosing a blue fare when booking your next trip. The membership fee will be automatically added to your shopping cart
An application form will be displayed. Fill in your information exactly as it appears on your official documents. Take into consideration that this information will be pre-loaded for your future purchases. The email address you enter will be your v.club username
Login with v.club and password whenever you make a reservation

If you already have an Individual Membership, you can upgrade it to Group Membership for just $999 MXN ($99 USD)
For more information click
here
to visit our Purchases Guides
CONSIDER
The owner of the Group Membership must travel with any reservation made with the membership, but the additional 6 travelers may be different in each reservation

If you upgrade your Individual Membership to a Group one, it will maintain the validity of the Original Membership (individual). This also applies for temporary memberships.

When you purchase or upgrade your v.club Membership, the fee will be added to your shopping cart and the payment will be completed with the reservation
When you purchase, renew, or upgrade your v.club Membership, you'll receive electronic confirmation of your transaction
To get the best available price, choose the v.club fare every time you make a reservation

It is not permitted to change the name on the ticket of an Individual or Group membership holder

The e-mail you enter when joining v.club will be your username and you cannot modify it later
If you have any questions, contact us at: vclub@volaris.com
Click here to see the Terms and Conditions.